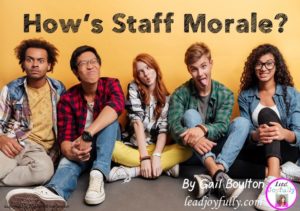 I recently asked elementary principals to rate their staff morale on a scale from 1-10 (10 being out-of-this-world wonderful!). Over 100 principals responded. Here is how they rated staff morale: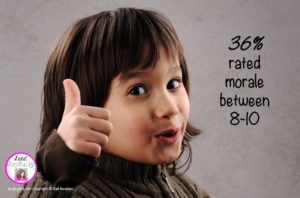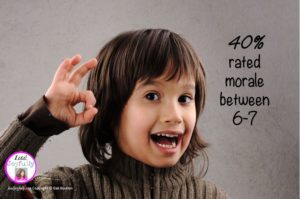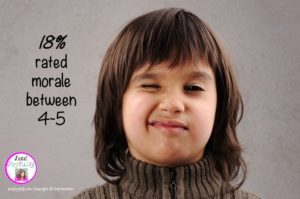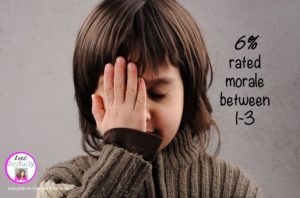 The responses came in the month of May. Typically, a month where teachers are administering end-of-year testing and well, end-of-year EVERYTHING has set in!
My heart was saddened by principals dealing with "school closings", "needed staff changes" that sent staff into turmoil, "stressed-out teachers",  "job security" worries, and staff members that liked to "criticize others" instead of finding the good in others. A Texas teacher exclaimed how "mega high stakes testing season is hard". Yes, and amen to that! Despite best leadership efforts, outside circumstances can take a toll on morale in the workplace.
I celebrated with those that were celebrating!  36% rated between 8-10 and a whopping 76% rated staff morale at level 6 or higher. That is amazing!!! Many principals took the time to share what "out-of-this-world wonderful" staffs they have. A principal from Ohio stated, "I have the BEST STAFF and FACULTY in the WORLD!" "And a principal in Iowa has a "very dedicated and tenacious group". They were eager to share some platforms and the ways their teachers encourage each other. (More on this later.)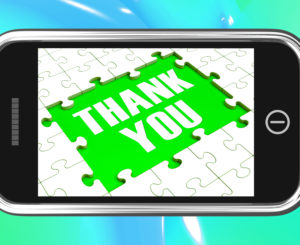 As a principal from Michigan exclaimed, "Kudos to their positive attitude!"
I'd like to say, KUDOS to all the PRINCIPALS, too.  From the majority of your responses, it's evident your presence, actions, and attitudes are making a difference in staff morale on your campuses. Thank you for all you do!!
Now…time to rest!