Originally posted December 2012:
Come on in, sit right down…and bounce, stretch, or just relax!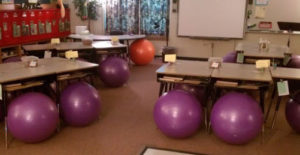 The first semester of school has zoomed by and I'm pleased to say the students still enjoy the weighted stability balls.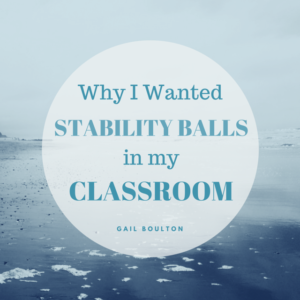 I like different. I remember walking past classrooms when my own children were in elementary school and they all looked the same. I understood why when I became a teacher, however,  I think my temperament type has always leaned toward quirky!
After I researched stability balls (because they were different!), I was intrigued with what I found.
The history of the stability ball is very interesting. It was originally invented in 1963 to be used as a toy. Physicians began using them in treatment for children with Cerebral Palsy. Today they are used around the world for fitness, therapy, and in classrooms.
The American Journal of Occupational therapy concluded in their 2003 study that the stability ball:
Improved behavior
Improved legible work from students with attention deficit hyperactivity disorder
Was preferred by teachers and students over desks
I purchased my stability balls while on sale at a discount store. (Unfortunately, they are no longer available from that store.) There are many varieties of stability balls on the market. If you ARE looking, it's important to select the balls that are weighted or have "fingers" on the bottom. The orange ball pictured in the back of the classroom is the adult size.
The advertisement on the box stated that the balls are burst-resistant, so if it gets punctured, it's supposed to "slowly leak air" instead of popping. I did get to test this…or rather one of my students did! This little angel was bouncing on the ball and decided to get his arms in on the action. They were flopping up and down like a chicken flapping its wings (also hitting the sides of the ball). He also had a newly sharpened pencil in his hand. That sharpened point hit the ball just right…and…there he sat with a stunned look on his face on a deflated stability ball! It did not burst, but the air came out a little faster than "slowly". The look on his face was priceless. He went from surprised to abrupt sadness when he realized (per the "rules of the stability ball") that he would be reverting to a chair. By the way, no physical injuries to the child incurred. The ball? It bit the dust.
A few things to note:
Not every teacher thinks they would enjoy these in his/her classroom! I had co-workers upfront state that they could "not handle" stability balls in their classroom. They were thinking "chaos", "noisy", and "too much movement". You have to know yourself and your temperament type!
Communicate with parents beforehand. I sent a letter home before the school year began explaining the history, benefits, and addressed possible concerns. I also sent with it a permission slip. My administrator did not require it, but it made me feel better.
Establish a procedure and rules for using the balls (and stick to it!). The first day we discussed the procedures/rules and I made sure I followed through and was consistent. If they "lost" the use of the ball it was their choice by their actions. It was matter-of-fact and they learned very quickly.
It wasn't as chaotic, noisy, or as much movement as I thought. I also had concerns, but the procedures/rules took care of that.
Children need to gradually build the length of time they can sit on a stability ball. One of the benefits is strengthening  "core" muscles. Unfortunately, not all children are in good physical shape. If you are in a self-contained classroom, I would suggest gradually increasing the sitting time until their muscle strength increases to prevent soreness.
Have chairs available. Learning styles are different. The largest percentage of my students use the balls. There are a few that prefer a chair. You will also need chairs for those that choose not to follow the rules of the stability balls.
I love them! I believe it does help my active students concentrate better. They are great for "brain breaks" and for indoor recess time. Mine came with a DVD workout that I use.
They DO stack on top on your desks (if needed) at the end-of-the-day. This makes the custodians very happy!
Would you like to have stability balls in your classroom? Why?…or why not? Leave me a comment.
Gail