Employees look forward going to a workplace that they enjoy… don't you? Injecting the fun factor into your workplace is important. It helps staff members have a sense of belonging, it builds rapport, and it reduces stress.  You can help create an enjoyable work atmosphere with ready-to-go scavenger hunts.
Photo scavenger hunts, QR Code hunts utilizing Google Docs, and scavenger hunts you are able to design yourself…take a look!
Click on any of the scavenger hunt product picture(s) in this article to see details.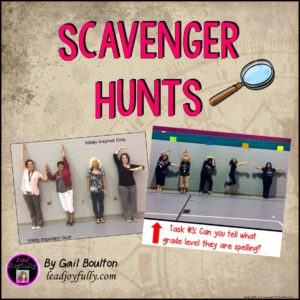 Grab your photo-taking devices and lead your staff meeting, department meeting, or company gathering with one of the following PHOTO scavenger hunts.
Both downloads above have the same "hunt". The "complete bundle" includes team leader headbands/badges plus table numbers 1-15. (Utilize the headbands and table numbers throughout the year!) Both downloads include directions to the activity leader, the "hunt", and certificates for your staff upon completion.
General Directions: Divide the staff/group into teams and have them pick a team leader. (This is where the table/group numbers will help.) Teams should have 4-6 people. Do you have a small group? Work in pairs! Explain the scoring (although the scoring is up to you). Every team gets one point for completing each item. Accumulate extra points at leaders discretion. Remember, hunts can be as simple or as complex…or as long or short as you want!  Share or display your photos after the activity or at your next meeting/gathering. Above all, have FUN!
A Texas principal sent the following pictures of her staff.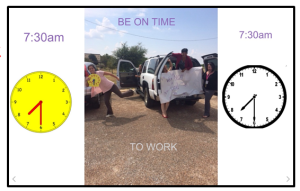 <——Task #1- "Take a picture of at least two people in your group with an analog clock that is set to the time that the staff needs to arrive at work each day. (No points are given for the incorrect time!)"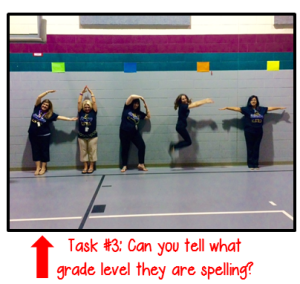 Task #3 – "Pick a large space and form a word out of your bodies. One person needs to be available to take the picture!" (Extra points for the longest word? It's up to you!)
Lining up from least to greatest…numbers of years of service…AND finding a great writing spot is also part of these scavenger hunts.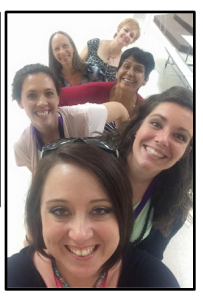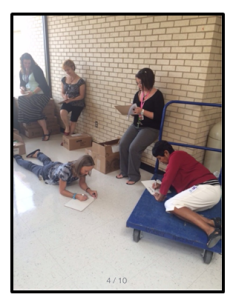 Two other photo scavenger hunts utilize QR CODES. The QR code scanned sends them to Google Doc files that have the clue or activity to perform. (You will have the clues in case the internet is not cooperating!)
"Fall FUN!" Scavenger Hunt: Clue #1, certificate for the group that are the "Fastest Finisher!", and bag toppers to attach to hot chocolate packets afterward.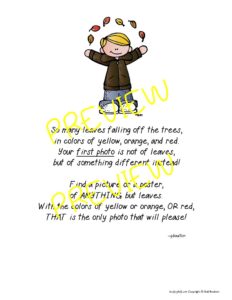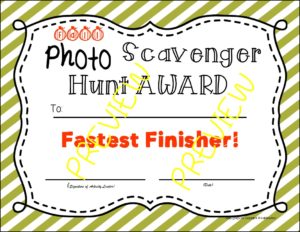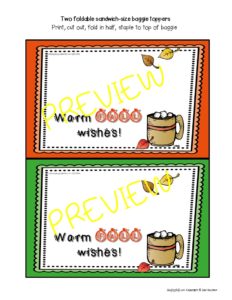 Complete the "Nutcracker" scavenger hunt in order as it tells the background story of the Nutcracker Ballet. Included in the download are six certificates (available in color and black & white) plus ten bookmarks.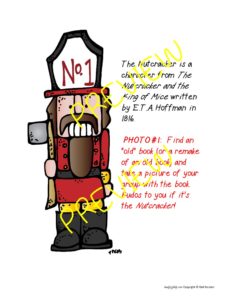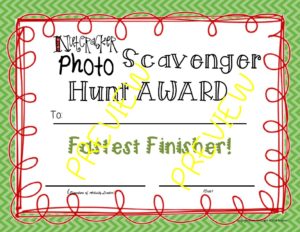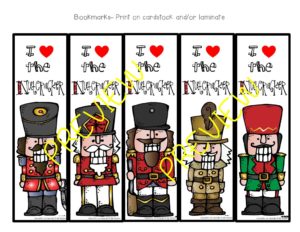 "Super Sleuth" is another complete staff activity! An example clue for this hunt: "Take a picture of each one in your group wearing a homemade detective hat (e.g. made from aluminum foil, construction paper, or…a lampshade?)"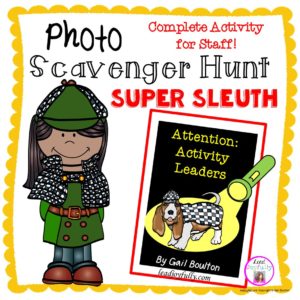 "Be A Detective" (pictured below) is the ultimate scavenger hunt as it allows you to create your own hunt for ANY activity. I originally created it when I wanted a different way to present our Campus Handbook to our veteran crowd. Plenty of ideas included for the activity leader. Clue sheets AND photo booth props are included for your detectives. The power point file is EDITABLE. Just insert a text box, type your clue, message, instructions, note, letter, sign, etc. Reuse this 18-page file adapting it to any learning experience!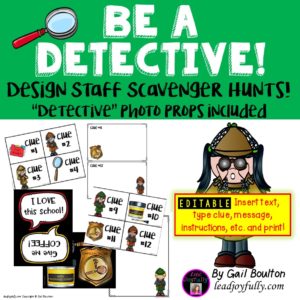 FOUR SCAVENGER HUNTS IN ONE! I've combined these photos scavenger hunts for saving $$.  Click on the picture to preview.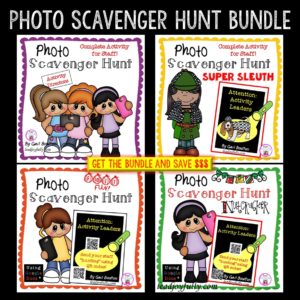 Family stuff: When I discovered my husband had never participated in a scavenger hunt (poor deprived man!), I made one up for him and surprised him on his birthday. He was scanning codes, reading clues, and searching all over the house. Yeah, kinda cheesy but you should have seen the smiles on his face. 🙂 Most recently, my grandson completed a Critter Easter Egg Hunt I put together with great enthusiasm (aka "hyper" running from one clue to the next!). It didn't hurt that he was getting some reading practice in either! 🙂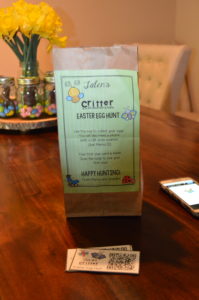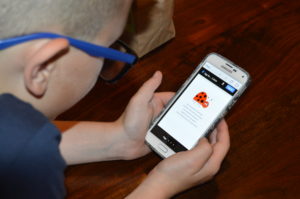 Do you have an idea for a scavenger hunt you'd like to see? Share your thoughts in the comments.