"90% of employees find a fun work environment extremely motivating" according to  Gary Chapman and Paul White in their book, The 5 Languages of Appreciation in the Workplace. 
Yes, yes…and yes!!
That is my goal in creating "Bizarre and FUN National Holidays" for the workplace. A chance to celebrate, motivate, and encourage your staff or co-workers.
I'm hosting a giveaway on my Teacher's Notebook site. TEN "Bizarre and FUN National Sunglasses Day" download will be awarded on June 25th. (National Sunglasses Day is the 27th.)
This holiday includes a card, "My future is so bright I need shades" plus, sunglasses that can be used for a photo booth or bookmarks…or both!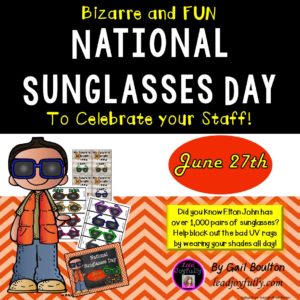 Click here to enter!     (Scroll until you find the picture above.)
Thanks for stopping by,
Gail