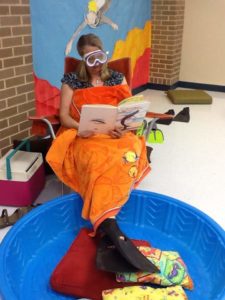 The creative and humorous lady in the picture above was my librarian, Lori. The library took on amazing transformations through her giftedness. Plus, the parents, staff, and kids absolutely loved her! This BEACH theme was incorporated the last few weeks of school to get everyone ready for summer time. I want to show you Lori's ideas that transformed the library and also a couple of ideas to carry this theme into a BON VOYAGE for your staff. But don't limit yourself. The BEACH theme can also be used to WELCOME your staff back (so they don't have to give up summer time!) at the beginning of your school year.
Following are pictures of the some of the wall decor. She painted on colored butcher paper most of what you see.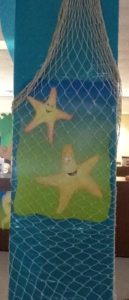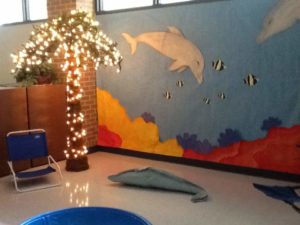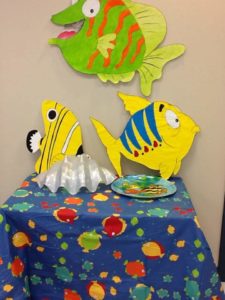 She removed the chairs around the tables and created a place for students to read "under the sea".  I love the blue cellophane!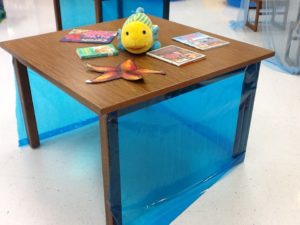 Add a few beach towels…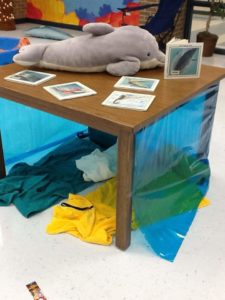 The original school that we worked in had a library the size of a walk-in closet. Overly exaggerated, but you get the idea…it was small. The district built a brand new school in 2000, re-zoned, and the small country school blossomed to more than triple in size. (I'm guessing here!) So did the library. It was good news for Lori. She had plenty of room to stash what I call her garage sale items.  It's painful for Lori to throw anything away! She can take what some people would consider trash though, and make it into a real treasure. The mural on the wall in the next picture I bought from the teacher store when I first began teaching. We are talking OLD here people. I think Lori found it in her stash!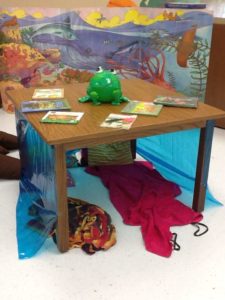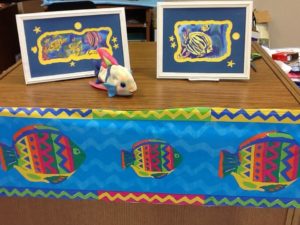 The chairs were still in use.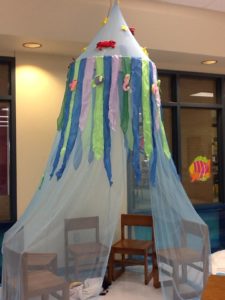 Beach Theme Food Ideas
To carry this into a BON VOYAGE (or WELCOME BACK) to celebrate your staff, you need of course to add food items. Here are a few beach related names of items and suggested food. Remember, you can make this as simple or as WILD as you want!
"Driftwood"- pretzel sticks Use carrot or celery sticks if you are not worried about brown for driftwood and/or want healthy options.
"Beach Balls"- cheese balls, cherry tomatoes, malt balls, donut holes, cake balls…anything round!
"Grab a Floatie"- gummy lifesavers, donuts, powdered donuts, breath mints etc.…anything with holes!
"Fish Here"- Put goldfish in a fishbowl and serve with a new fish net (the ones used with aquariums).
"Life Preservers"- Fudge striped cookies (See "Grab a Floatie" above…same idea!)
"Flip Flop Stop"- Grab some Nutter Butter Peanut Butter cookies, colored frosting (in a tube), and a small container of star decorations found in the baking aisle. Turn them into flip flops.
"Pool Noodles"- licorice Twizzlers or how about extra large pretzels? Dip the pretzel ends in melted dark or white chocolate and then roll in blue edible glitter.
"Seaweed Dip"- spinach dip of course!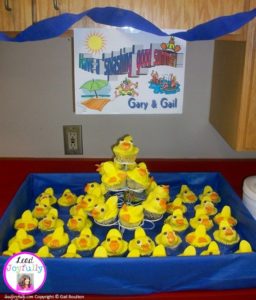 This picture was taken several years ago when I was an Assistant Principal. The staff was getting ready to leave for summer break. Our wonderful Administrative Assistant made the sign and I made the duck cupcakes. I've not attempted making them since, but I wanted to give you an idea. For the beach theme, make (or buy) cupcakes with blue icing for water. How about white icing and crumble graham crackers up fine to look like sand? You can lay one Teddy Graham cracker on the sand (looks like a sunbather). Or…stick the Teddy Graham in a gummy lifesaver to look like he is in an innertube!
TEAM BUILDING ACTIVITIES WITH BEACH BALLS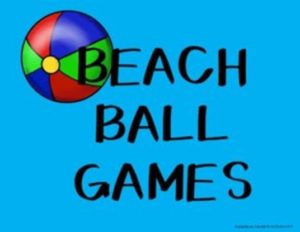 Let's Race!- Teams race with the beach ball between your legs! Or…in teams of the same number, the 1st person passes the ball over their head to the person directly behind them. The 2nd person passes the ball through their legs to the 3rd person behind them. Alternate over, under, over, under, until the last person. The last person can run to the front and start over. Continue until all have had a chance to be person #1.
Beach Ball Toss- Write questions or directives (activities to perform) on beach balls. The person who catches the ball looks where their right thumb (or left) lands and either answers the question or performs the activity. Make it a separate activity or combine.
Suggested questions/activity to write on beach balls:
Pretend you are swimming.
What motivates me is…
Inner tube or raft?
Sand in your ears or nose?
Quack like a duck.
Have you ever eaten oysters or snails?
Favorite color jelly bean?
What do you collect?
Pool noodle or squirt gun?
Favorite summertime read?
Furthest place you have traveled?
Stand on one foot until the next person answers.
What is your middle name?
Cake or cupcake?
Two words that describe you.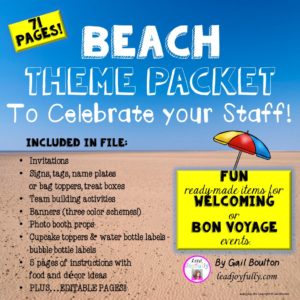 I found the pictures of Lori and the library turned "beachy" a couple of weeks ago. Besides the memories making me smile, I began to think how helpful it would be to put items together in a WELCOMING or BON VOYAGE packet. (The things I didn't have time to create when I was a principal!) The next thing I knew, I had this 71-page "BEACH THEME PACKET". Included are EDITABLE pages that you can personalize. Five pages give you ideas (some included in this blog) and how to incorporate them into the beach theme. Check out the details and the preview in my store. It's on sale now! (Click the picture above.)
I'll definitely be sharing more about Lori. She is quite a character…the real superhero type!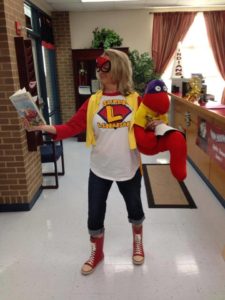 Stay tuned!
Gail