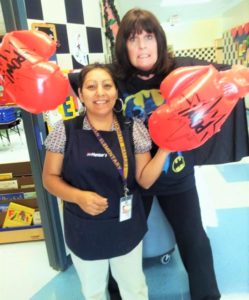 Meet Luz, one of my more-than-fantastic custodians when I was a principal. She was the first person on campus most mornings and quickly circled that whole school making sure all the inside doors were unlocked. And by the way, she was not the only wonderful custodian on campus. I was very thankful for my staff! I was especially thankful for Luz one summer when I walked out of the restroom with my skirt still tucked in at the waistline in the back. You'd think I would've felt the breeze or something, but I didn't have a clue that my backside was showing!
 I left the restroom after washing my hands and went to find the custodians. It was during their lunch time and I wanted to bring them a sweet treat for all their hard work. Lots of laughter and fun at the tables! But the laughter stopped when I started to turn around to go back down the hall. I looked back and saw Luz motioning wildly at me. Bless her heart. I'm not sure how many that day got to see a "new side" of the principal, but I am eternally grateful to them for not making it common knowledge around the school. Of course, I took care of that by telling the story myself!
Building relationships with your staff is so important. Treat them with respect and honor they deserve (and even when they don't deserve it!). Being thankful for the small…and big things that they do every day is paramount. It might even save your "backside" one day. 🙂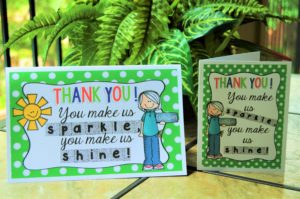 Check out the "Thank You Cards for Support Staff" in my store!
The files include cards for:
Bus Drivers, Cafeteria Workers, Secretary, Counselor, Custodians, Crossing Guard, Nurse, Librarians', Principals, Teachers, PLUS four generic cards.
For more details, click the picture(s).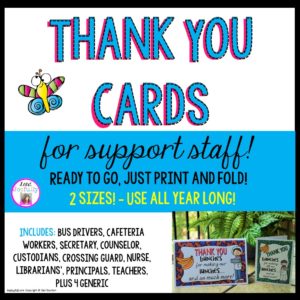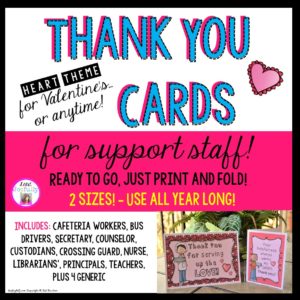 Construction Thank You Cards and Superhero Thank You Cards are generic for staff or students!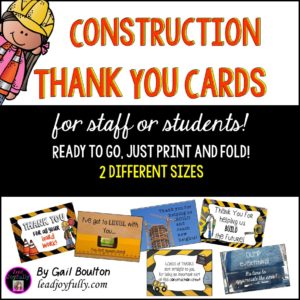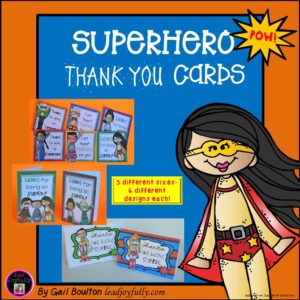 Thanks for stopping by,
Gail