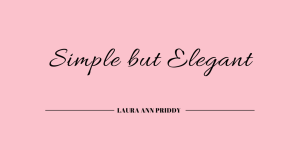 Simple but elegant.
That's my motto. Heavy on the "simple" and forever working on the "elegant"!
As an elementary school principal, I loved making appreciation cards, tags and creating a FUN atmosphere for my staff. I tried making those items while I was working, but, I failed at having the time to do it right. (I still am in awe of those who can!) Currently, I'm semi-retired, working from home, and loving it.
Creating a positive climate is essential in the workplace (and at home)! Feeling appreciated and valued in your profession is a must. The stories on my blog and the downloads in my shop help you do just that.
Other tidbits:
"Keeping it FUN" is my middle name. It's probably the reason I worked at an elementary school for so long!  Life can be stressful. Keeping the FUN factor helps lead the charge joyfully.
To teach is to learn. It's a life-long endeavor for me.
Pray and obey. I love the Lord and when I apply "pray and obey" life is the utmost best! 🌷
Not very elegant, but it sure is simple.